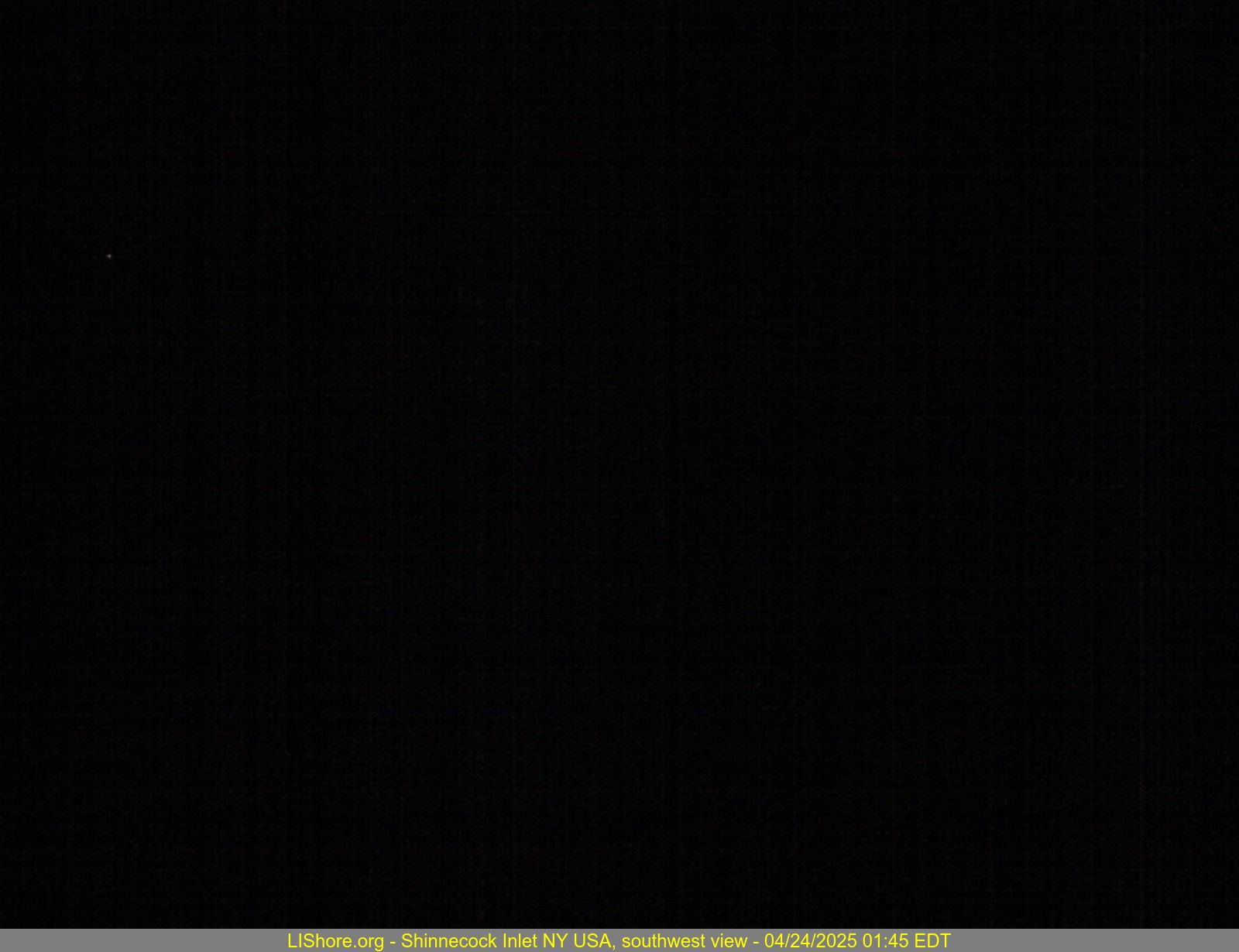 Webcam images updated every 15 minutes - click on any image for larger version.
Sea Conditions at SHINNECOCK INLET
Long Island, New York USA.
Latitude 40 degrees 50.52 minutes North Longitude 72 degrees 28.70 minutes West
Page last updated 08/22/2017 16:17 EDT
---
Station status 7/26/2017:
1) The water quality instrument has been removed for repairs and will be redeployed as soon as possible. We regret any inconvenience.
2) Weather is reported in Greenwich Mean Time or British Standard Time (Eastern Daylight Time + 4 hours, 1600 GMT / BST = noon EST). We will switch to zone local (EST and EDT) as soon as possible.
---
Weather Observations at Light Tower "Big White"
Time
08/22/17 8:27p GMT
Maximum, last 24 hr
Minimum, last 24 hr
Average wind speed
11 mph
10 knots
17.0 mph
at 7:35p
Wind gust
17 mph
15 kts

Wind direction
SSW : 212 deg true
Air temperature
75 F
24 C

75 F (24 C)
at 8:06p
71 F (22 C)
at 5:54a
Barometric pressure
29.89 in Hg (1012 mbar)
Barometer trend
Falling Rapidly
Rain today
0 in (0 mm)
Photosynthetically Active Radiation (PAR) at Oaklands Marina
Time
08/22 16:12
Maximum, last 24 hr
PAR
1245 uE m-2s-1
2527 uE m-2s-1
at 08/21 16:42
Tide at Oaklands Marina
See note below regarding MSL reference.
Time
08/22 16:12
Maximum, last 24 hr
Minimum, last 24 hr
Water level
-0.9 feet (-0.3 meters) MSL
2.4 feet (0.7 meters) MSL
at 08/21 20:18
-1.8 feet (-0.6 meters) MSL
at 08/22 02:12
Tide
Tide is flooding
Rate of change:0.6 feet/hr
0.2 meters/hr
Water temperature
(water quality sensor reading is more accurate if avaialable)
73 F (23 C)
74 F (23 C),
at 08/22 15:06
67 F (20 C),
at 08/22 06:30
Water Quality at Oaklands Marina
Time
ND
Maximum, last 24 hr
Minimum, last 24 hr
Water temperature
ND
ND
ND
Salinity
ND PSU
ND PSU
at ND
ND PSU
at ND
Dissolved Oxygen
ND
ND
ND
Oxygen Saturation
ND %
ND %
at ND
ND %
at ND
Chlorophyll a
ND ug/l
ND ug/l
at ND
ND ug/l
at ND
Turbidity
ND NTU
ND NTU
at ND
ND NTU
at ND
NOTES:
Real-time data are unchecked and preliminary. Please read this disclaimer.
MSL = measurement referenced to Mean Sea Level. Seasonal and weather system biases highly affect estuarine water levels, therefore the MSL datum for this station is preliminary until data are collected over a sufficient length of time to define it accurately.
Inlet camera supported by crowdfunding - Click here to donate.
Sensors supported by the Shinnecock Bay Restoration Program.
---
About LIShore | Data Access | LIShore Home

Photographs and maps | Help LIShore grow | Disclaimer
---
---