LIShore photographs and maps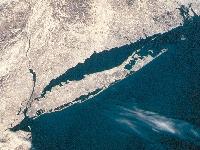 Long Island from Space. The LIShore masthead logo is derived from this beautiful photograph of Long Island taken from the space shuttle. We don't have complete information on the image, but it was shot in March after a snowfall (note the ice in Great South Bay and the upper Hudson) and appeared in the book "Orbit" published in 1996 by the National Geographic Society. This image is cropped from the original picture supplied by NASA through the courtesy of the Long Island newspaper Newsday.
You can click on the thumbnail to load the full size image (1200 x 900 JPEG, 204 kB). Saved to your local disk and resized to fit your monitor, it makes great wallpaper!
A Pictorial History of Shinnecock Inlet.. A series of twelve annotated aerial photographs tracing the development of Shinnecock Inlet from its formation in the Great New England Hurricane of September1938 until today.
Map of Shinnecock Inlet and Bay instrument locations.
---
---
About LIShore | Data Access | LIShore Home

Photographs and maps | Help LIShore grow | Disclaimer

LIShore is a project of the School of Marine and Atmospheric Sciences at Stony Brook University in collaboration with the LIShore partners.
---
---